Concept to Completion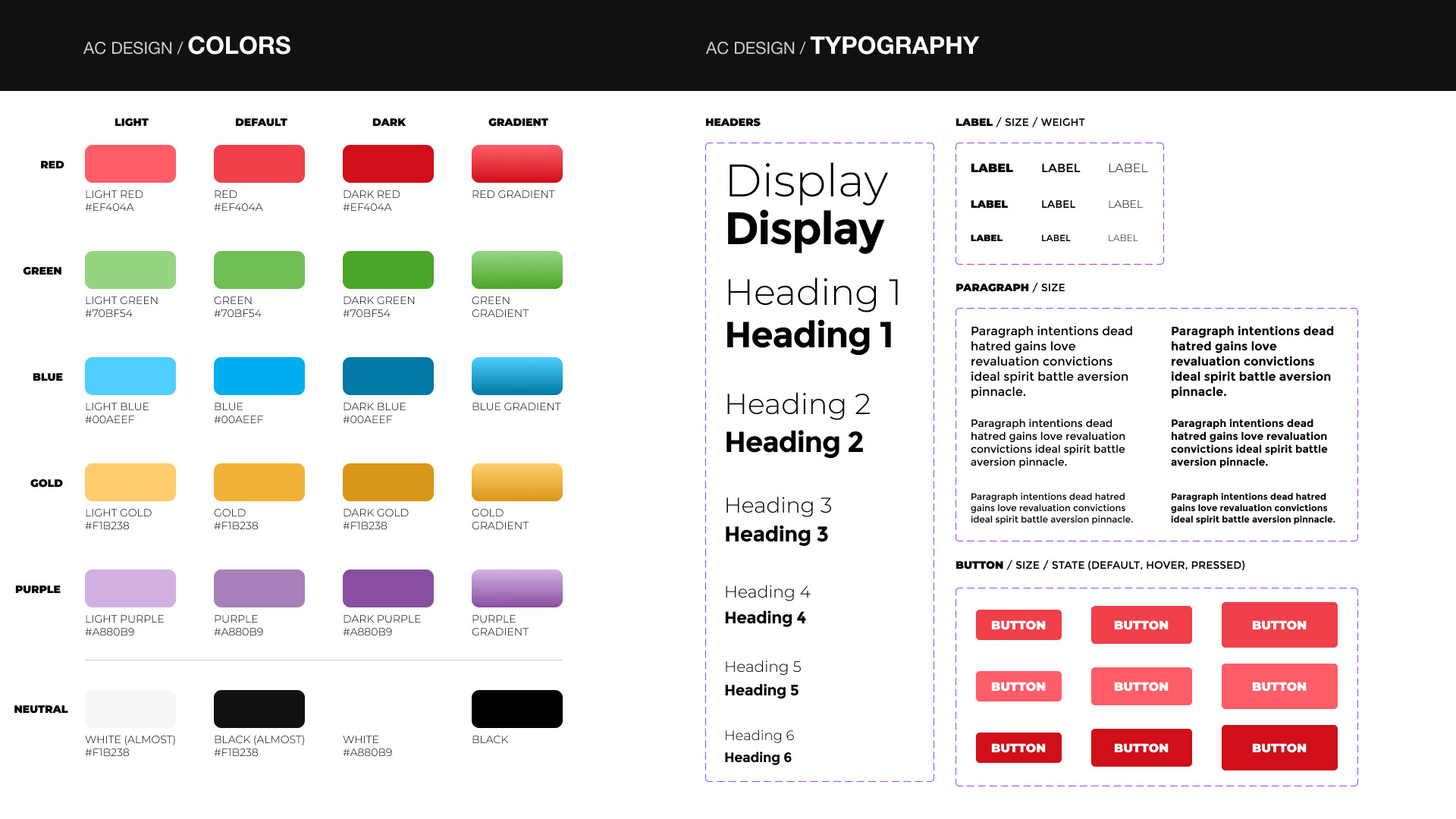 AC Design System 2023
Always a work in progress
Throughout the years I relied too much on my css to be my style guide. To remedy this, I have begun to properly build the design system that would not only be a base for my main portfolio site, but also a good core to build new projects on.
Built in Figma, I am utilizing their style, components, and variants to set up a flexible design system so I can quickly prototype new pages and ideas.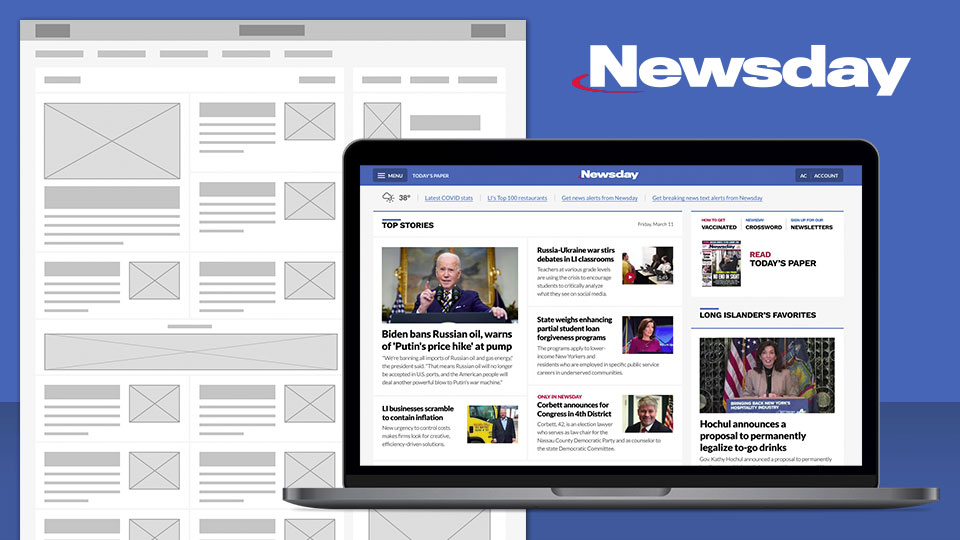 Wow. Redesign.
Here we go again
In my 10+ years working for Newsday I have been involved in (at least) 3 complete redesigns for www.newsday.com
For the most recent redesign in 2020, I spearheaded the new module system structure that gives our editors great flexibility to adapt to any news situation.
Being involved in every aspect of its creation, these are general tasks I was involved in to get us from concept to completion:
purpose and goals established with stakeholders
research (user testing, user experience, competitors)
wireframing
design
front-end development
QA testing
Beta release and testing
full launch and ongoing AB and user testing
Every step along the way is a constant loop of presenting to stakeholders, incorporating feedback and gathering further user data. We are constantly updating features of our main news site.
Visit newsday.com
Sports Central
The Latest Scores from Newsday Sports
Sports Central is a tool that schools and coaches use to track sports results and schedules. I designed and coded the interface. Sports Central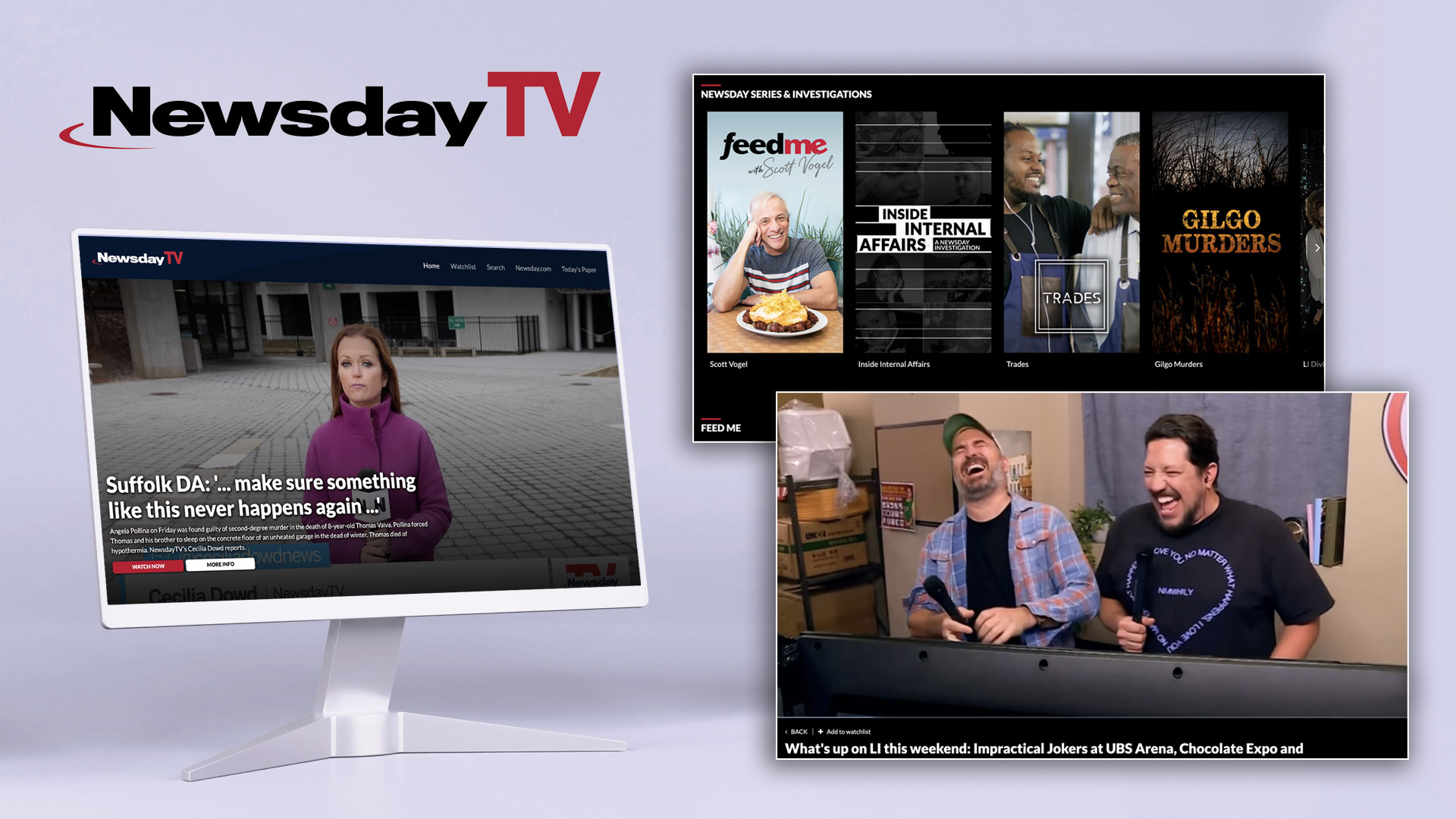 NewsdayTV
Streaming now
NewsdayTV is a huge new initiative where we deliver non-stop video news coverage using our new state-of-the-art studio. I designed the site's interface to be familiar to those who use Netflix, Disney+ etc.
Visit NewsdayTV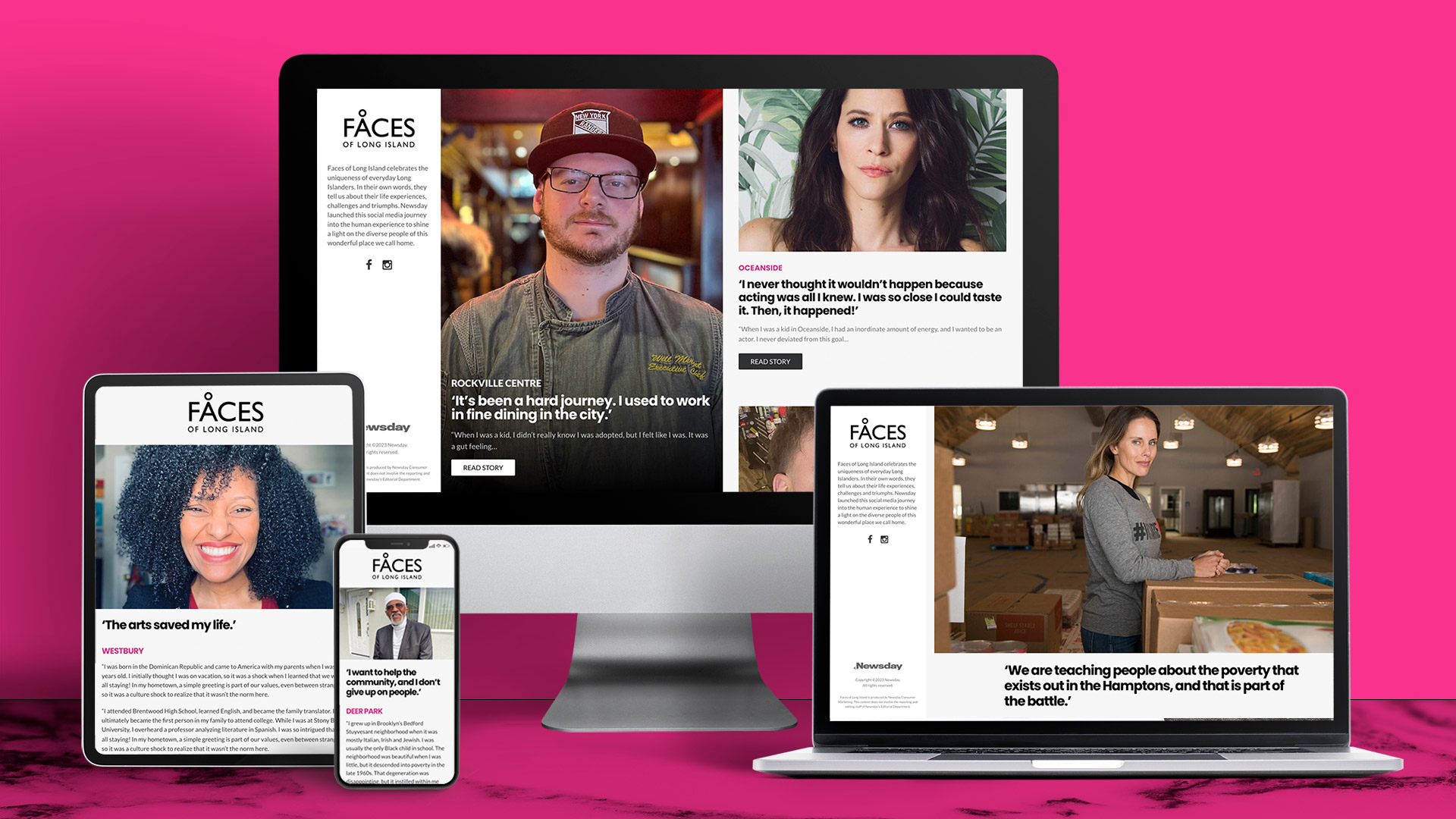 Faces of Long Island
Celebrate the uniqueness of everyday Long Islanders.
Faces of Long Island highlights the interesting lives and stories of fellow Long Islanders. Working with marketing, I designed the site to be a clean and modern showcase for a diverse group of people.
Visit Faces of Long Island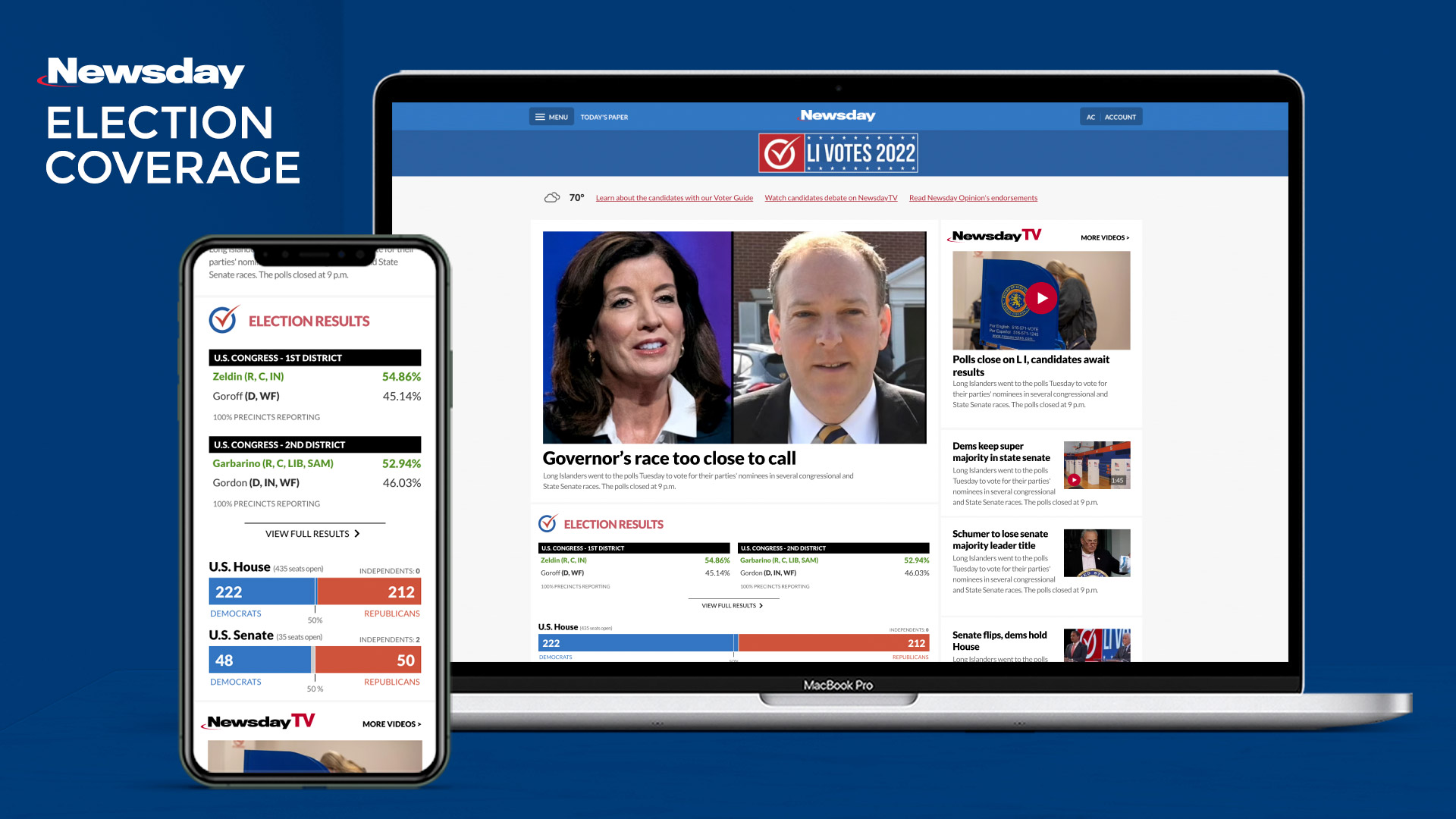 Election Coverage
LI Votes
For special events like major elections we overhaul our homepage to show more data and visuals as the votes roll in. I designed and coded the data displays for this and similar homepage takeovers for many years at Newsday.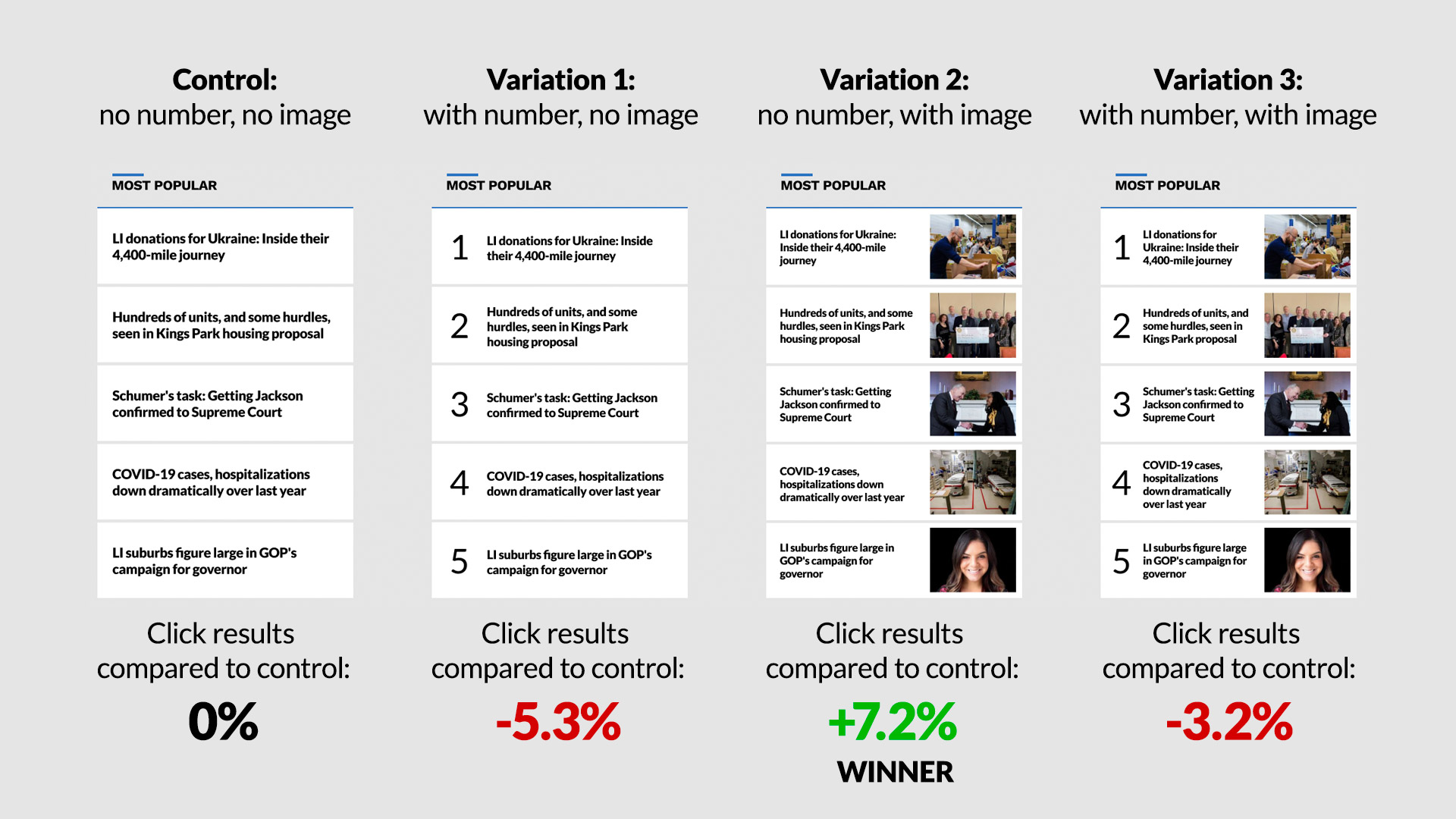 AB Test
It's not sexy but it's important
We are constantly performing tests on our site where we change up certain features and split up our audience to determine if a potential change is actually beneficial to our goals.
As a simple example, we tested a list of headlines with and without numbers and images. In this example we can see that adding numbers to the list actually hurt our click through rate, while adding photos made users more likely to click through.
So Variation 2 is the winner and will be implemented onto the entire site.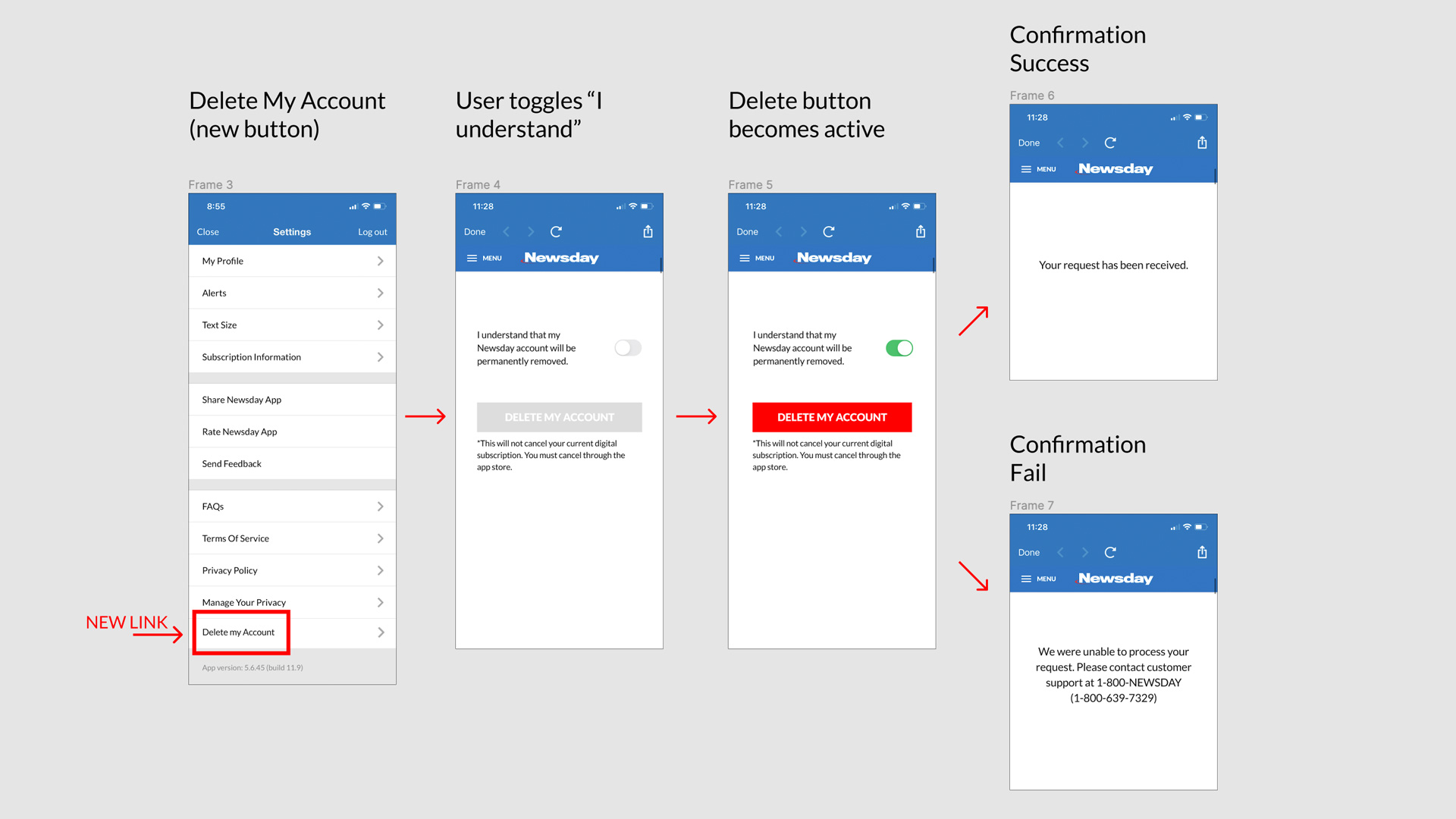 User Experience Flow
Guiding you on your journey
A huge part of being a UI designer is determining the paths a user can take when interacting with a product.
This simple example shows how a user might delete their account, and results in either a confirmation success or fail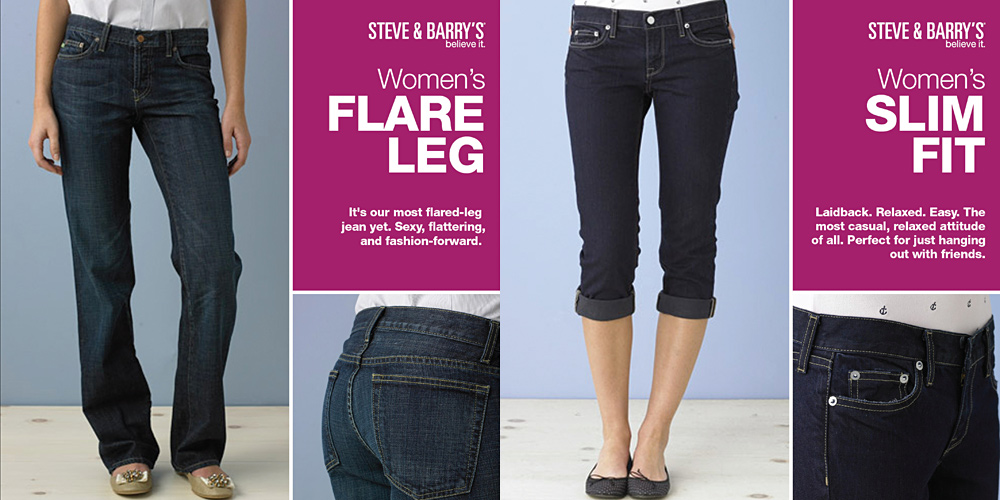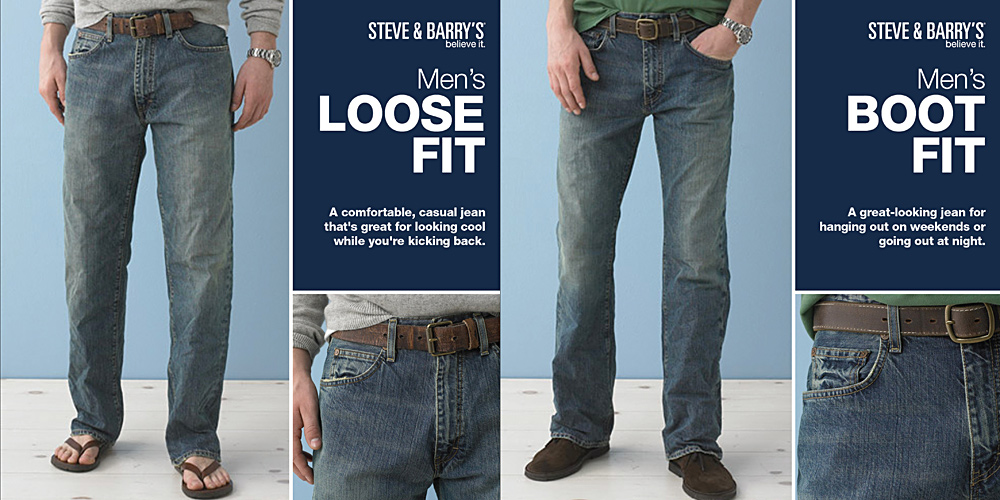 Denim Panels
Slim, Boot, Flare, Loose, Relaxed, Skinny, you know...pants
These signs were located above the jeans section to let customers know the available styles in the section below.
Want More?
Not enough cool stuff here for you? Visit the Archive page to see more designs I created through the years.